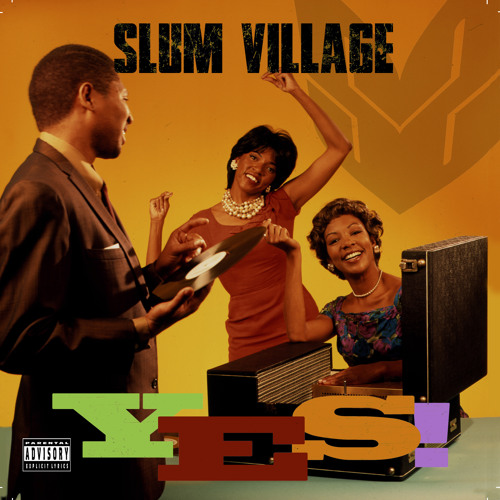 Looking to follow up 2013's acclaimed "
Evolution
" album, Detroit vets Slum Vill's latest piece of art is only 6 days away from release. While we got held over by fire singles featuring De La Soul and Phife Dawg, the crew now gives us a little taste of the rest of the album as they leak the sinppets. "
Yes!
" features guest appearances and production from De La Soul, Jon Connor, Phife, Dilla, Black Milk, BJ The Chicago Kid, Bilal, Illa J and J Ivy, get it
here
.
Official Tracklisting and Credit:
1.) "Intro" (produced by Jay Dee a.k.a. J Dilla)
2.) "Fantastic/Love Is" f/ Bilal & Illa J (produced by Jay Dee a.k.a. J Dilla)
3.) "Tear It Down" f/ Jon Connor (produced by Jay Dee a.k.a. J Dilla)
4.) "Expressive" f/ BJ The Chicago Kid & Illa J (produced by Jay Dee a.k.a. J Dilla and Young RJ)
5.) "Push It Along" f/ Phife Dawg (produced by Young RJ)
6.) "Windows" f/ J Ivy (produced by Jay Dee a.k.a J Dilla)
7.) "Yes Yes" (Remix) (produced by Jay Dee a.k.a. J Dilla & Young RJ)
8.) "Right Back" f/ De La Soul (produced by Jay Dee a.k.a. J Dilla & Young RJ)
9.) "We On The Go!!" f/ Black Milk & Frank Nitt (produced by Black Milk)
10.) "Too Much" f/ Keely (produced by Jay Dee a.k.a. J Dilla & Young RJ)
11.) "Where We Come From" (produced by Young RJ)
12.) "What We Have" f/ Kam Corvet & Illa J (produced by Jay Dee a.k.a. J Dilla)